Maestro
Soluzione All-In One, Server/Gateway KNX

Maestro Designer, la nostra applicazione di designer di lavoro, offre tutte le funzionalità e la flessibilità di cui avrai mai bisogno. Usando intuitiva programmazione "drag and drop" – crea un design grafico unico, imposta Schedules, Macro, Logiche, Mail Alert, Grafici, Controllo vocale supportato tramite Alexa di Amazon, Rilevamento automatico di Sonos, gateway KNX Bacnet e molto altro ancora. Hai bisogno di una funzione speciale? Usa il linguaggio di scripting per creare le tue caratteristiche. Progettare l'automazione personalizzata della vita reale non è mai stato così facile!
GUI Personalizzabile
Design completamente libero di GUI personalizzabili, opzioni per la creazione del tuo design personale di pulsanti, planimetria, e rendering 3D realistici.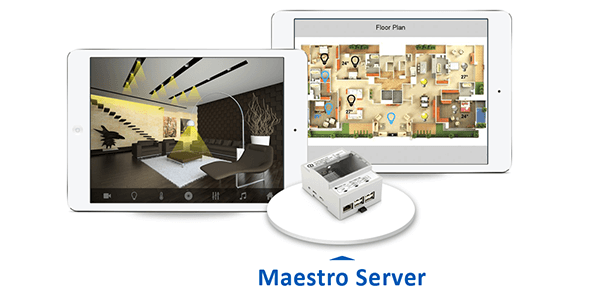 App Cliente
Una GUI vivida consente la visualizzazione ed il controllo da PC, tablet e smartphone tramite LAN ed Internet.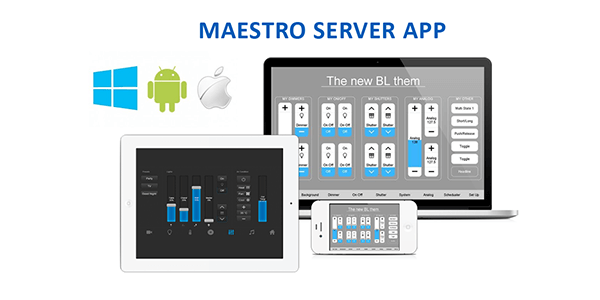 Gateway Sonos a KNX
Controlla Sonos dalla App di Maestro e dagli switch di KNX.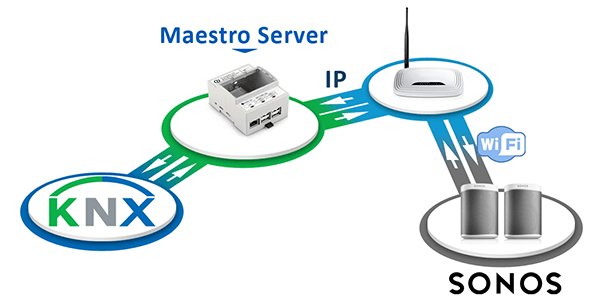 Controllo Vocale
Supporta Amazon Echo – "Alexa" comando vocale.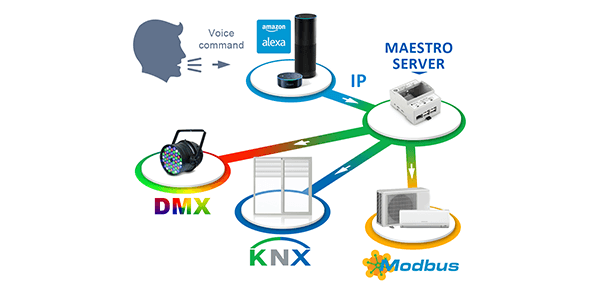 Protocolli Proprietari
Maestro ha un avanzato generatore di protocolli che consente al system integrator di importare dalla libreria CDI o scrivere direttamente protocolli a 2 vie usando RS232, RS485 IP ed IR per controllare e integrare sistemi esterni come CoolMaster, Somfy Blinds, Pima, sistemi di allarme DSC ed altro ancora.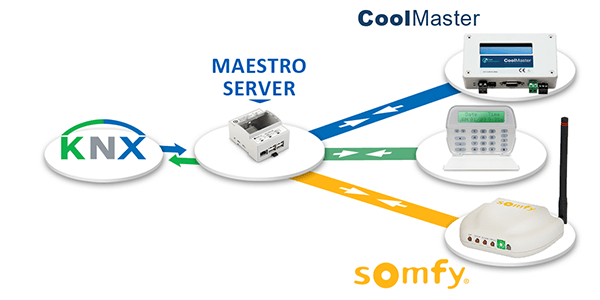 Gateway ASCII KNX
Funziona come il migliore e più efficiente possibile gateway KNX bidirezionale sul mercato. Maestro fornisce semplici comandi ASCII per importare le informazioni del database ETS e per controllare KNX da controller di terze parti; è usato da leader di mercato come RTI, Contrl4 Contrl4 ed altri.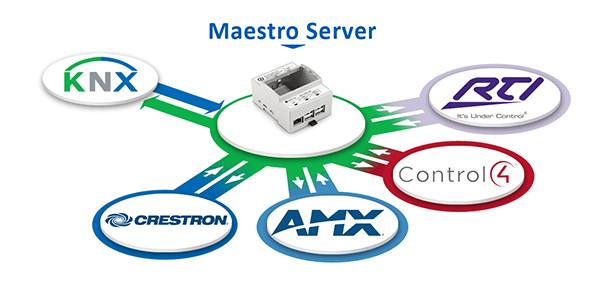 KNXnet/IP
Utilizza il protocollo KNXnet/IP, consentendo la programmazione remota di tutti i dispositivi KNX da ETS su una postazione remota.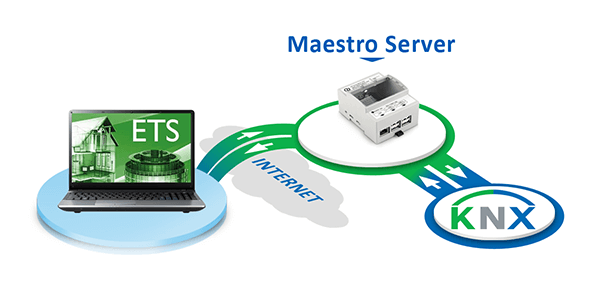 Protocolli IoT
Supporta i protocolli MQTT e REST in modo nativo.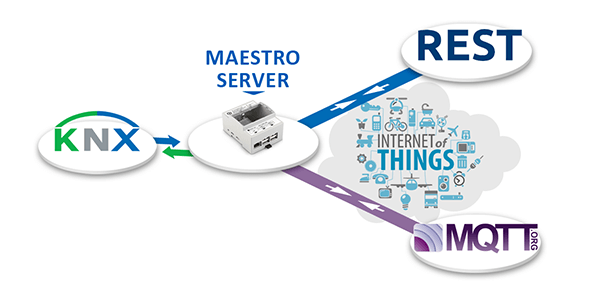 Grafici
E' In grado di raccogliere anni di dati e di presentarli su vari grafici.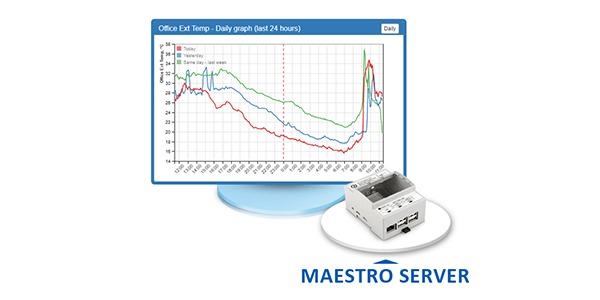 Schedulazione
Gestione da parte degli utenti finali degli eventi programmati giornalieri, settimanali e annuali, comprese funzioni basate sull'orario del tramonto e dell'alba.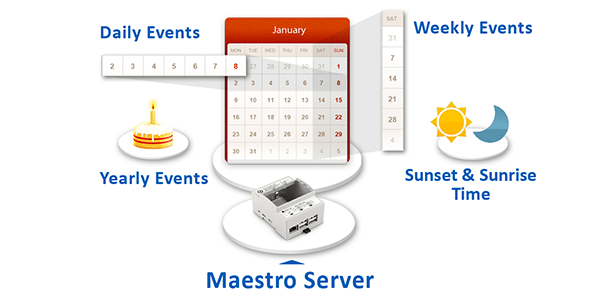 Macro/Scene
Attiva facilmente e stabilisce i preset attraverso l'interfaccia amichevole per l'utente finale.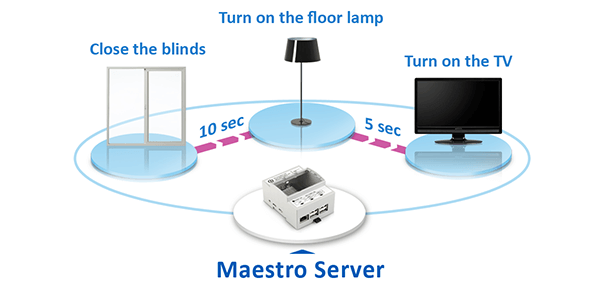 Intercom Video IP SIP
Maestro e' un telefono video IP SIP avanzato.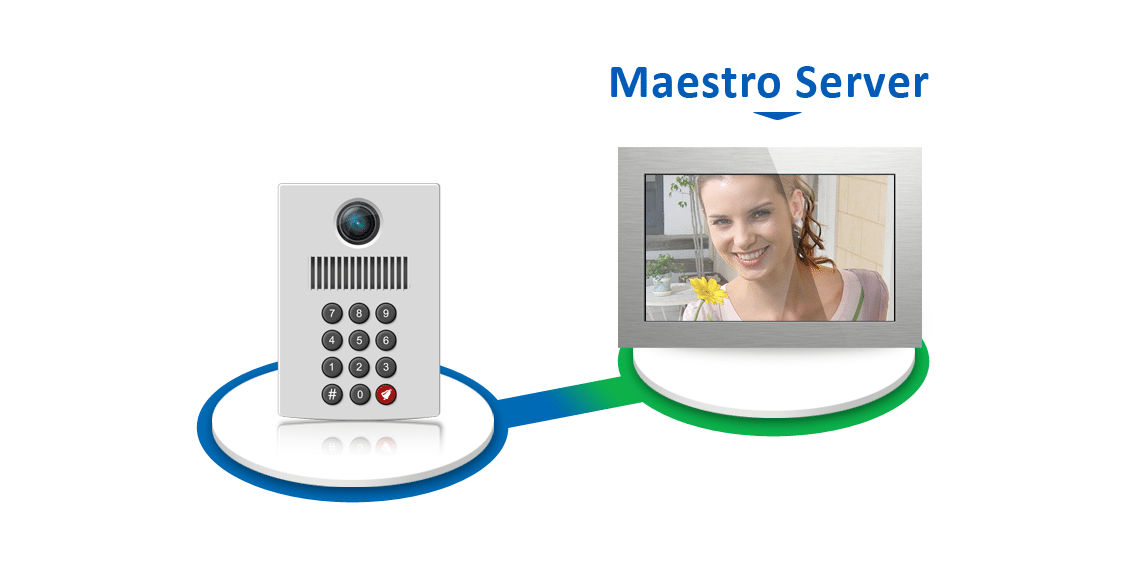 Video IP
Supporta un'ampia gamma di formati video ed e' possibile visualizzare più stream video su ogni pagina di Maestro.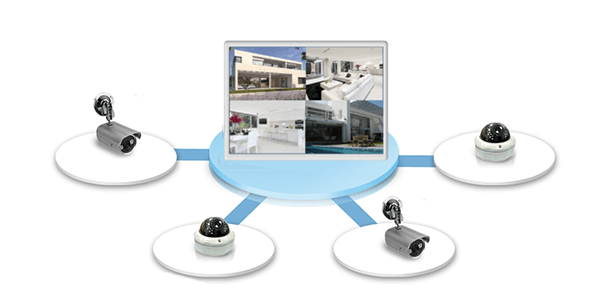 Controller Logico
Function Blocks Controller – utilizzando solo drag & drop (trascinamento della selezione), potrai implementare funzioni di controllo e logica estremamente complesse, in quanto e' possibile utilizzare un linguaggio di script ancora più complesso.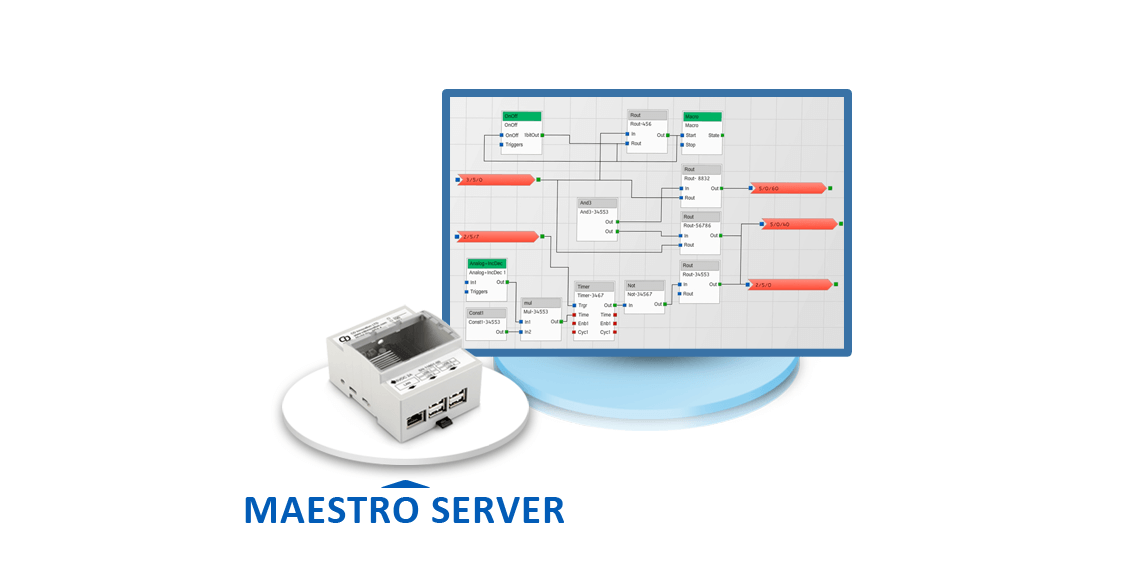 Linguaggio di Script
Per algoritmi complessi e protocolli a 2 vie è possibile utilizzare il linguaggio di script.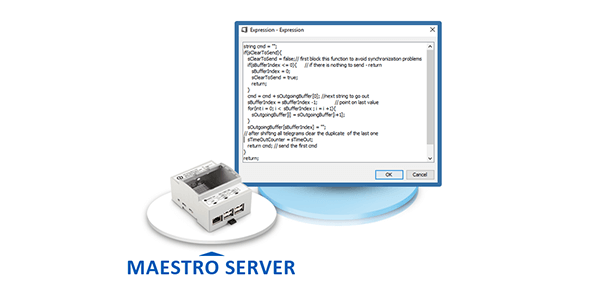 Email
Si possono inviare diversi avvisi tramite e-mail per vari eventi, il contenuto del testo può essere composto dinamicamente al volo dall'intelligenza artificiale di Maestro.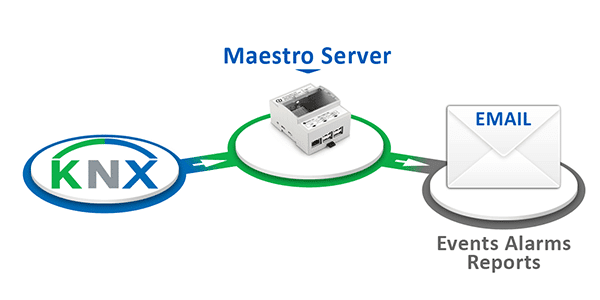 Widget
Può presentare widget di terze parti come i widget meteo e di borsa.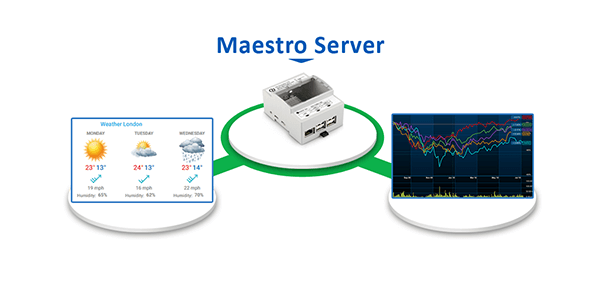 Server Web
Può presentare pagine web per esempio per mostrare l'interfaccia web di sistemi esterni all'interno della App di Maestro.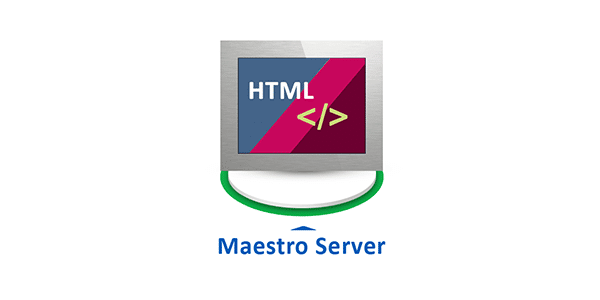 Cloud Server
Enabling easy maintenance, and firmware upgrades.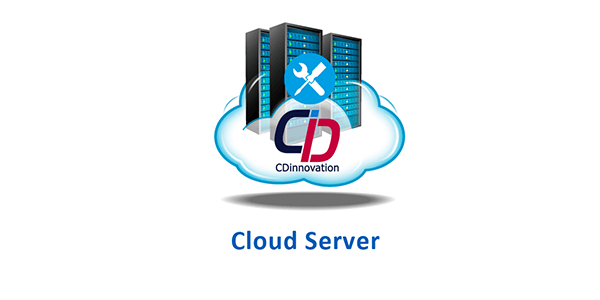 Sicurezza Massima
Tutte le cpmunicazioni per la programmazione e le operazioni con gli utenti finali avvengono tramite sicuro SSH criptato e con la protezione di password.