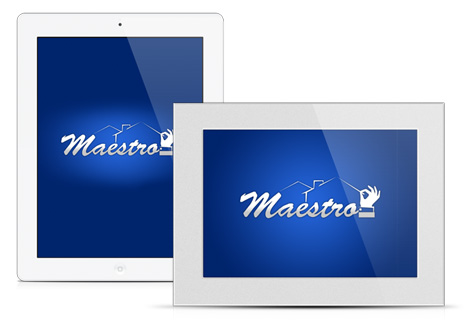 In today's world, many people are investing more and more in their residences, in an attempt to create a comfortable environment to come home to.  EIB / KNX "Smart Homes" (equipped with EIB / KNX Home Automation Systems) are at the forefront of these efforts.  However, until recently the problem has remained, how to conveniently and aesthetically control these "Smart Systems" and how to integrate external system such as Audio, Video, HVAC Intercom, Alarm systems and smart phones.and have the same user fraindly GUI on inwall touch screen, ipad / iPhone and web interface ?
CD Innovation comes to the rescue with a new line of products – The Maestro series.
The Maestro series is a line of innovative, elegant solutions designed to control EIB  / KNX and other Home Automation systems. The Maestro series address the challenges of Home Automation by utilizing flexible, accurate, cutting edge management techniques that optimize customization abilities while delivering a truly enjoyable user experience.
Let the MAESTRO take control
Maestro controls home automation systems using all common communication methods: KNX,RS232,RS485,IP and IR. It acts as 2 way gateway between the different systems, integrate them to one system and acts as end user friendly and intuitive graphic interface havving the same GUI on inwall touch screen web browsers iPhone and Ipad. 
MAESTRO TOUCH screen server for EIB / KNX Systems
The MAESTRO TOUCH product line is based on a high resolution, LCD touch screen server that integrates every aspect of EIB / KNX home automation through a single interface and acts as your control center.  It can replace large, multiple wall switches, thereby streamlining your home. Imagine the ability to alter mood and temperature through the touch of a single customizable, preprogrammed button on a stylish touch screen controller.  Complete with state of the art, extremely user friendly software, this product offers the customer unlimited control of every room in their residence using in wall touch screens, web browsers, iPhone and iPad.
Advantages of the MAESTRO TOUCH for EIB / KNX Systems
The MAESTRO TOUCH server combines all the essential functions into one, Scheduling, Macro, IP Intercom, Data logging, Touch screen user interface to monitor and control, Logical Functions and Web control the Maestro also acts as gateway to external systems such as Audio Video and HVAC integrating all of them into one smart home utilising the same GUI on inwall touch screen web browsers iPhone and Ipad.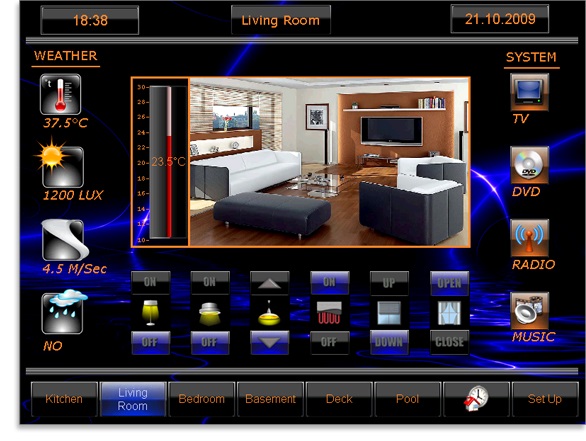 Visualization
The Human – Machine Interface of our EIB / KNX control system is extremely user friendly, creating a truly enjoyable user experience. It includes Status indication, beautifully prepared buttons, bar graphs, special buttons for shutters, dimmers and on/off, as well as general purpose toggle, push release and many other buttons.
MaestroRemote application for iOS, Android and Windows
MaestroRemote combines Maestro graphic interface and functionality with cell phones and tablets such as iPhone and iPad , providing full, wireless remote control of KNX and all your home systems.
MaestroRemote App controls and monitors KNX as well as other systems integrated by the Maestro Server, enabling wireless control over temperature, lighting, security, and entertainment systems.
The MaestroRemote app supports multi touch (resizing) landscape and portrait and utilizes the same, unmatched, user friendly, Maestro panel design, simplifying control of your home automatiom systems.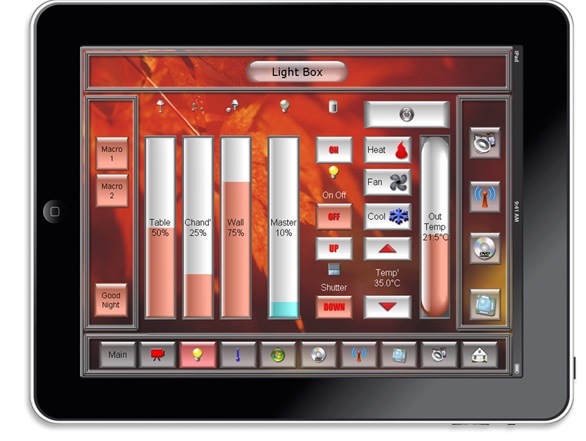 IP Cameras enabled
The Maestro home automation contor center supports M-JPEG (Motion JPEG) video streaming. It is possible to present few IP cameras on the same Maestro graphic page simultaneously.
IP SIP Videophone / IP Intercom
The Maestro home automation controller is an advanced IP video phone based on SIP H.263 and G711 standards. The Maestro features with excellent picture quality, ease of deployment and broad interoperability with 3rd party SIP products. The Maestro supports real-time video. The internal microphone and speakers, LCD allows videoconferences from your home or office as well as whole building IP video intercom. For the out door unit it is possible to use 3rd party intercom such as the Mobotix T24, 2N Helios, AmRoad DP10x…


Control of Audio, Video and other external Systems / Gateway
The Maestro contro center has direct connectivity to the EIB / KNX system, IP and integrated 2 x  RS232 (/RS485) ports.
The external network adepter GC100 enables to extend control over additional RS232 ports and IR transmmiters.
The Maestro Editor software utilize an advanced protocol generator that enables you to implement the most complex two way protocols for controlling external devices/systems.
This way, you can use the Maestro as a gateway between EIB / KNX and external systems such as Audio, Video and HVAC and control them from the Maestro integral touch screen, browser and even from KNX switches.
Scheduling
The Maestro server has daily, weekly and yearly schedules. In addition, it's preprogrammed with sunset and sunrise times for every location in the world (by astronomical clock). The user can easily set the schedules through a friendly preprogrammed interface, with no technician required.  Users can set as many schedules as they want.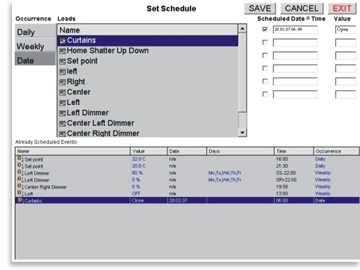 Macro
A few loads/devices can be set with an individual value setting and delay setting and activate as a sequence by one push of a button. The user can easily set the macro through a friendly preprogrammed interface.  No technician is required and there is no limitation to the number of macros implemented.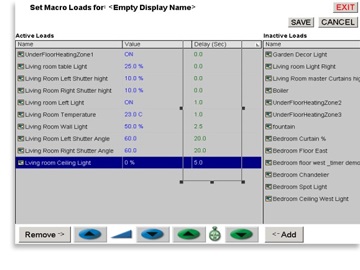 Remote Web Control and Monitoring
You can choose to implement the remote control and monitoring feature that allows you to view and control KNX and other home automation systems using any PC on the net. The system is enabled with completely secure Internet connectivity, allowing you to view and control your home even away from home using standard brouser: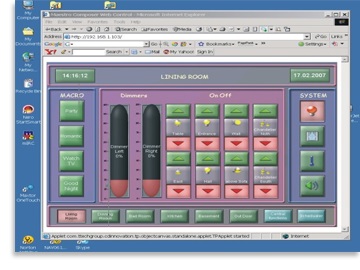 Logical and Mathematical Functions Enabled
The brain of the MAESTRO controller is capable of highly complex logic, control and math functions.  This means that the touch screen controller is capable of performing commands such as, "if it's after sunset AND the presence detectors senses people then turn the light on"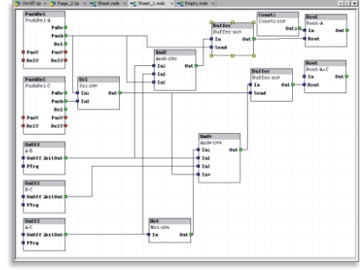 KNXnet/IP enabled
KNXnet/IP enables the use of the Maestro to tunnel KNXnet/IP communication from a remote ETS software to the local KNX bus.  The Maestro support all ETS communication except Bus Monitor (group monitor is supported). So you can program and monitor the KNX devices on the site from your office PC and use the Maestro as KNXnetIP gateway to other external devices and applications such as iPhone and iPad.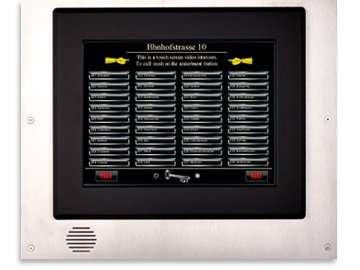 Tracking
While it might be a difficult task for some EIB / KNX devices to track and display the status of other loads, The MAESTRO TOUCH controller excels at tracking loads, enabling constant updating of information.  Smart analysis enables our touch screen controller to track the status of any load and EIB / KNX device at all times.  The MAESTRO controller can perform bus monitoring, intelligent, selective polling, as well as conversion between different EIB / KNX data types received from one device; and combine them to determine its status,  and update other devices regarding its status.
Logger
The maestro logs events of your automation system on the internal Flash disk. This enables you to analyze historical events and optimize both system performance and energy comsumption.
Alarms
The maestro monitors your systems and innediately alerts you to important information when it arrives.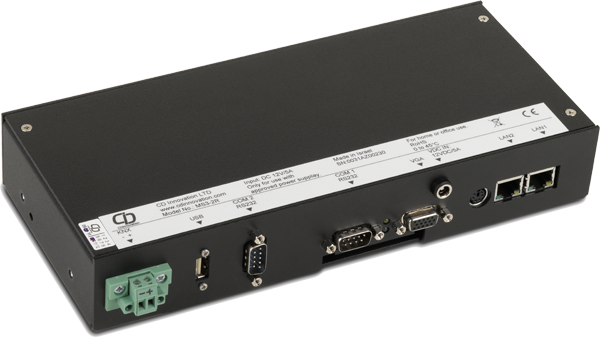 MAESTRO SERVER
CD Innovations offers a range of solutions to control EIB / KNX Home Automation system, designed to suit every type of home and budget.  The Maestro Server is a cost effective, secure method for optimizing Home Automation control.  Seamless Integration allows our customers to enjoy the benefits of e-Lifestyle, energy and economic savings, while creating customized, comfortable environments for the whole family
The Mestro Server has the "brain" behind the Maestro Touch Server (but without the Touch Screen).  It's hardware performs all the central functions such as presence simulation and  logic control functions; and also enables home owners to control their KNX Home Automation systems using their home PC and standard browser.  The powerful Maestro Designer software enables the installer to build a user friendly, flexible GUI, with unmatched ease of scenario and schedule setting, enabling control of every room in the residence by utilizing cutting edge management techniques.  The GUI has been specially designed to optimize customization abilities and user experience, allowing the user to customize and program control functions easily
The Maestro Server combines Scheduling, Macro, Tracking, Logical and Mathematical Functions, Gateway to external systems and Remote control/Monitoring functions into one essential product.  It also provides complete, user friendly home environment control through your PC.  Customizable, easy to follow displays can be used to perform a wide range of functions
Remote Web Control and Monitoring
You can choose to implement the remote control and monitoring feature that allows you to view all of the information on any PC, and control it through your mouse. The system is enabled with completely secure Internet connectivity, allowing you to view and control your home from anywhere in the world.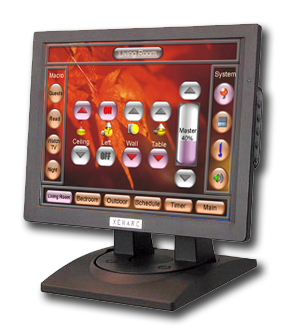 MAESTRO TOUCH
It is also possible to enhance functionality by connecting a monitor and mouse or even touch screen directly to the Maestro Server.
Availability and technical spec' are subject to change without notice.